Kayak Docks & Rowing Docks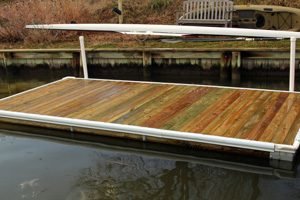 Our Kayak and Rowing Docks have set the standard in the kayak and rowing communities.
And, our happy customers are spread throughout the Mid-Atlantic area.
Whether a seasoned kayaker or rowing enthusiast, or novice, we can build a dock to fit your needs. With 6" freeboard our docks gives you an easy access.

Slot Dock  … Perfect for Kayaks and Paddleboards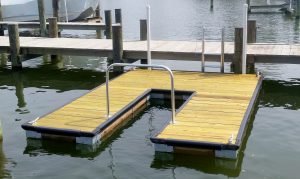 Our "Slot Dock" is an original Chesapeake Dock design, comes in a standard 10' x 13'9" kayak dock and includes a 3' x 8' slot and heavy duty grab bar, heavy duty rubrail, and four 10" cleats.
Built with the residential kayaker in mind, the dock has 6" freeboard, and gives perfect access to your kayak and paddleboard.
The 36" x 8' slot fits 99% of most kayaks. Should more width be preferred, we will build to your specifications. The grab bar is made of 1 ½" anodized aluminum and is positioned just forward of your seat for easy access. Simply grab the bar and kick your feet onto the dock.
Never get wet again. Our customers love it!
Call us at 410-295-0002 for a free site visit and estimate.