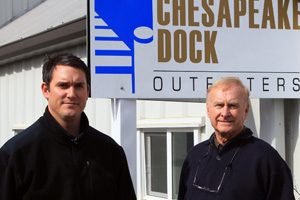 The concept of a regional floating dock and accessory company was the original idea of Karl Bieberich, the principal owner of the company. Karl has been involved in the maritime business since the age of 15, growing up on the back of fishing charter boats all over the Chesapeake and in the Atlantic Ocean. Today, Capt. Karl holds a 100 ton Near Coastal License, Inland Masters, Towing Endorsement, and is a Maryland Licensed Guide aboard his charter boat the Miss Grace.
Karl knew when starting a new business in 2006 he wanted to work on the water with those who share his love for the Chesapeake. Noticing a void in the area, Chesapeake Dock Outfitters was born. The original idea was to enter the marine industry with a company that specialized in quality dock accessories. As the company progressed, CDO quickly got involved in the floating dock business as a need existed within their client base. The business grew further with the EZ Dock dealership for most of the counties in the State of Maryland were added.
Karl's partner in the business is his father, Ron, a retired newspaper executive of thirty years and a Vietnam veteran. Ron's specialty is the quotation and design of the projects. At Chesapeake Dock Karl and Ron and the rest of the staff are dedicated to bringing you the best products and services the marine industry has to offer. Countless hours have been spent researching items that will stand up to the harsh marine environment that waterfront homeowners and commercial businesses experience on a daily basis. If it does not meet our rigorous quality control tests, it will not be offered by Chesapeake Dock Outfitters.
Services offered by CDO—from re-decking, to pressure wash & sealing, to the building, assembly and installation of floating dock products—are accomplished by skilled craftsmen in a painstaking methodology. Call today for a free site visit or appointment to see our products and facility: 410-295-0002