Chesapeake Dock Outfitters builds and manufactures floating docks to your specifications. From commercial to residential projects, whether it is a floating pier, rowing or kayak dock, swim platform, work platform or ramp, we can build it here in Annapolis at our manufacturing facility.
We pride ourselves on using only #1 marine grade pressure treated wood, the best commercial grade hardware, rubrail, and fasteners. You can choose from a variety of decking including: pressure treated decking, composite, IPE (Brazilian hardwood). Our docks are built to last and stand the rigors of a harsh marine environment.
Wood Framed Docks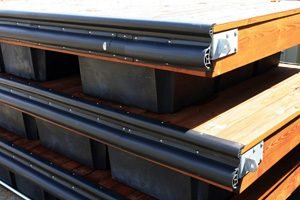 We specialize in wood framed docks and can construct a floating pier or other wood floating structure according to your special situation. We use only the best quality materials on the market today. Our wood is handpicked for quality and lack of defect and depending upon its use can be 2.5 cca pressure treated for structure or .06 ca.c for decking.
Choice of decking material varies according to your preference. Choose from pressure treated Southern Yellow Pine, IPE (Brazilian Hardwood), composite, or "ThruFlow " decking.

Aluminum Framed Docks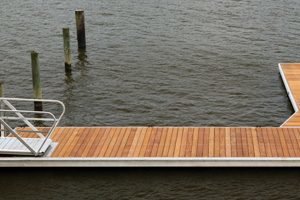 If aluminum is your frame of choice, Chesapeake Dock can design and deliver any of our current offerings using aluminum as the frame, and your choice of decking…from aluminum non-skid, to composite, to IPE (Brazilian hardwood) or "ThruFlow.
All of our aluminum framed docks feature:
100% Welded construction
Articulated and Non-Articulated designs
Built in Non-Slip deck surface
Marine grade aluminum construction
Wide range of sizes and freeboards to accommodate your requirements
Minimal maintenance
Polyethylene foam filled floats
A 12 Year Warranty
The EZ Dock
The EZ Dock Polyethylene Floating Dock System – "The first dock of its kind… the last dock you will ever need."
Chesapeake Dock, through its sister company, EZ Dock Mid-Chesapeake is the largest EZ Dock dealer in the state of Maryland.
As the largest polyethylene floating dock system in the world, EZ Dock floating dock systems are the strongest and most stable plastic floating dock and lift systems on the market. Since no two water front properties or marinas are exactly the same, EZ Dock systems are designed to fit almost any configuration or space. It provides a modular system where you can add dock pieces later or reconfigure your dock layout as your needs change. It is completely modular and versatile with hundreds. of accessories.
The EZ Dock Kayak Launch
EZ Dock now provides a stable and durable system for boarding and exiting kayaks. Designed to be especially valuable for seniors or anyone that could benefit in assistance for launching or recovering from kayak or canoe activities the system provides a dry and safe platform.
The EZ Launch™ for Kayaks and Canoes was the first port system built specifically for paddlers. It's so simple and safe to use that everyone will find boarding, launching and recovery a breeze. The rollers and guide rails make it easy to "glide" on and off. It can even be configured for universal accessibility that exceeds the requirements of the ADA by adding the Transfer Station accessory.

Gangways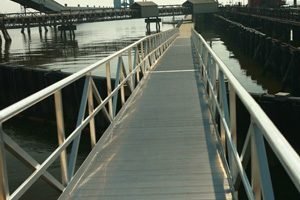 From commercial to residential, large or small, aluminum or wood, Chesapeake Dock can outfit your needs with the gangway of your choice and design. Our aluminum gangways are marine grade and fabrication is done using only the highest quality materials by skilled craftsmen. In addition, our gangways are lightweight, durable and maintenance free.
Gangways can be designed to your specifications and may be ADA compatible should you elect that option. Usually, the decking is non-skid aluminum, but can be adapted to your choice of material…composite, "ThruFlow ", or IPE. Rails can be made integral to the gangway or can be constructed for easy removal…your choice.
All gangways are sold ready-to-install and are transported direct to your site. Installation services available.
Call us at 410-295-0002 for a free site visit and estimate.