Chesapeake Dock Outfitters offers an array of services to keep your dock up-to-date and in excellent condition. From professional Pressure Wash & Sealing services, Re-Decking of your pier or walkway, Wooden Bridge and Ramp construction, Bulkhead repair, Lighting systems, and Outfitting your dock with our many accessories, Chesapeake Dock is the contractor of choice for many waterfront home owners and marina owners in the Chesapeake region.
If you are considering pier or bulkhead replacement, Chesapeake Dock can save you thousands of dollars by acting as the general contractor, acquiring competitive bids and presenting them to you for your decision. Rather than spend your valuable time soliciting bids, let Chesapeake Dock do the legwork and follow the project through from permitting to completion.
Call us at 410-295-0002 for a free site visit and consultation.
Pressure Washing & Sealing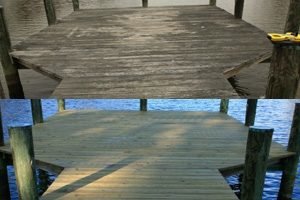 Protect your investment in your pier and other wood structures by using our pressure wash and seal services. We recommend pressure washing your deck boards every third year, and sealing the deck against splitting and warping. Pier decking left untreated after eighteen months, begins to split and deteriorization of the wood begins in earnest. Left unattended the process can extend to the stringers, going to the heart of your pier structure. Proper maintenance can add years to your pier, putting off the very expensive replacement. As the old saying goes… "an ounce of prevention is worth a pound of cure". This sage advice certainly applies to your pier.
In addition to the pier, we include other wood structures including steps, bulkheads, and decks. Our sealants have:
Enhanced waterproofing protection
Advanced SunBlock® UV defense
Exclusive Scuff Guard® technology
Provides the best mildew resistant coating
Backed by the Good Housekeeping Seal
Re-Decking
Your pier is an extension of your home. Proper pier maintenance in the form of re-decking maintains a "new look" for years, and preserves the foundation upon which the decking sits… the stringers. If your nails or screws are rusting, the rust travels down to the stringers and hastens the deterioration process.
We only use #1 marine grade pressure treated decking from the best marine lumber mills. Our fasteners are either stainless screws or hot dipped galvanized nails. All are excellent quality and time tested on numerous jobs. And should you wish to use special decking materials such as IPE or composite, we will give you a competitive quote.
Take a look at the condition of your pier and decide if it needs redecking. Better yet, give us a call and we can give you an honest opinion as to its present condition. If in our judgment it needs re-decking, we will give you a written quote, free of charge.

Bridges & Ramps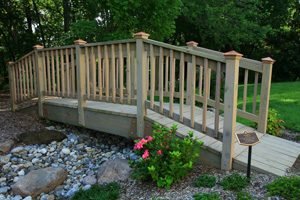 Chesapeake Dock Outfitters prides itself on its ability to adapt to every homeowner or commercial property owner needs. Whether it is a bridge over a swale, or a ramp over rip rap, our workmen do quality work that will stand the test of time. Have an idea about an improvement you would like to see on your property? Give us a call and we will be pleased to offer you a free estimate.

Outfitting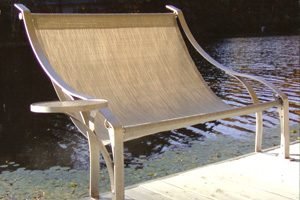 Chesapeake Dock Outfitters is a leader in offering only the best marine accessories. From lighting, ladders, dock boxes and dock furniture, power pedestals, piling fenders and rubrail, cleats and line holders, fish cleaning/filet stations, and fish attraction lights, piling caps, the list is endless… Chesapeake Dock has taken the guesswork out of your search for quality. We only use and recommend the best marine quality accessories and make them available to you, our valued customer. Installation services are offered.