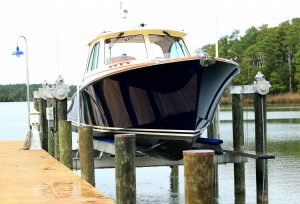 Chesapeake Dock Outfitters is an installer and seller of Magnum Boatlifts. Magnum Boatlifts are the premier boatlift in the Chesapeake Bay Region and within the boat lift industry. And, Chesapeake Dock installs lifts for every boat imaginable including PWC's, sail boats, fishing boats, cruisers and even davits for your dingy.
Single piling mounts are a perfect solution for your inflatable's and even the largest of 3 seater PWC's up to 1500 lbs.
Two piling side mount lifts are offered for skiffs, sailboats and small runabouts up to 2800 lbs.
For larger vessels, CDO offers lifts ranging from 8000 lbs to 40,000 lbs.

A Magnum Lift offers: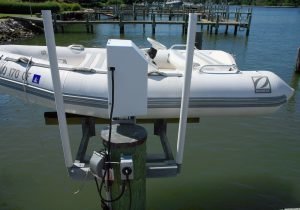 Safe, convenient year round, dry storage
Rugged galvanized steel construction
Low profile engineering
Certified engineering drawings
Outside walkways standard
Stainless steel cables and sheave
Fully enclosed "hinged" covers
Optional E-Gear Drive
For smooth, quiet, maintenance-free operation with no exposed moving parts, the optional E-Gear is available for all Magnum Boat Lifts.
The E-Gear consists of a direct input gearbox with a fully enclosed fan-cooled motor. This design results in a more compact unit requiring less space on the dock. This is especially beneficial in marinas or on narrow docks where space is at a premium.
The motor is mounted higher on the piling, well out of the way of high tides.
Call us at 410-295-0002 today for a quick site visit and free estimate.